The International Wrestling Grand Prix (IWGP) Heavyweight Championship is a professional championship owned by the New Japan Pro-Wrestling (NJPW) promotion. Its Japanese name is IWGPヘビー級選手権 (transcription: IWGP hebī-kyū senshuken).
The International Wrestling Grand Prix (IWGP) is NJPW's governning body.
Short facts about the championship
| | |
| --- | --- |
| Owned by | NJPW |
| Established | On the 12th of June, 1987 |
| | |
| | |
Structure
A title holder must successfully defend his title to keep it. If he wins the match, he remains champion. If he loses the match, a new champion is crowned.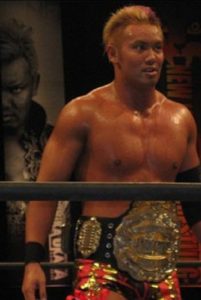 If the current champion can't and won't participate in a match to defend his title, a tournament will be held to determine a new champion. This has happened several times in the history of the championship, usually because the reigning champion has been injured.
Belts
The championship has been represented by four different belts. The current belt was introduced in March 2008.
In 2006, Brock Lesnar caused commotion within the wrestling world by refusing to defend his title and refusing to return the physical belt, claiming that NJPW owed him money.
Triple Crown
The (IWGP) Heavyweight Championship consitutes one prong of the (inofficial) New Japan Triple Crown, with the other two components being the IWGP Intercontinental and the NEVER Openweight Championships.
Notable achievments
Antonio Inoki became the inagurual champion by defeating Masa Saito in a tournament final.
At the time of writing, 7-time winner Hiroshi Tanahashi holds the record for most regins.
As of 2016, Okada holds the record for most days as champion with 1,450+ days and counting. Okada has four reigns, with the fourth and current one being the longest of any reign in the title's history, lasting for 650+ days and still going on.
The shortest reign in the history of the title was 16 days long. This is how long Kensuke Sasaki's fourth reign lasted.
When it comes to successful defenses during one individual reign, Okada and Tanahashi are tied on first place with 11 successful defenses. Since Okada's ongoing fourth reign hasn't ended at the time of writing, he still has a shot at surpassing Tanahashi.
Tanahashi successfully defended his title 28 times over his seven reigns, which is the highest number of successful defenses completed by any of the champions.
Notable foreigners
A vast majority of of the championship winners have been Japanese wrestlers, but a handful of foreigners have also managed to earn their way into this exclusive groups, such as:
Leon Allen White (Big Van Vader) from the USA
Salman Alkhauzurovich Hashimikov from the Kazakh Soviet Republic (today Kazakhstan)
Scott Norton from the USA
Robert "Bob" Sapp from the USA
Brock Lesnar from the USA
Allen Jones (AJ Styles) from the USA
Title history 1987 – 2015
| | |
| --- | --- |
| # | Order in reign history |
| R | Reign: The reign number for the specific set of wrestlers listed |
| DH | Days held |
| SD | Successful defenses: The number of successful defenses the champion had during his reign |
| — | Used for vacated reigns |
#
Wrestler
R
Date
DH
Event Location
SD
Notes
1
Antonio

Inoki

1
June 12, 1987
325
Tokyo, Japan
4
—
Vacated
—
May 2, 1988
—
—
—
Vacated because Inoki's foot injury
2
Tatsumi

Fujinami

1
May 8, 1988
19
Tokyo, Japan
1
Vacant title won by defeating Big Van Vader
—
Vacated
—
May 27, 1988
—
—
—
Title held up after defense against Riki Choshu ended in a no contest
3
Tatsumi

Fujinami

2
June 24, 1988
285
Osaka, Japan
7
Vacant titel won by defeating Riki Choshu
—
Vacated
—
April 5, 1989
—
—
—
Vacated so the title could be decided in a tournament.
4
Big Van

Vader

1
April 24, 1989
31
Tokyo, Japan
0
Vacant titel won in tournament final; Shinya Hashimoto was defeated
5
Salman Hashimikov
1
May 25, 1989
48
Osaka, Japan
0
6
Riki

Choshu

1
July 12, 1989
29
Osaka, Japan
0
7
Big Van

Vader

2
August 10, 1989
374
Tokyo, Japan
4
8
Riki

Choshu

2
August 19, 1990
129
Tokyo, Japan
1
9
Tatsumi

Fujinami

3
December 26, 1990
22
Hamamatsu, Japan
0
10
Big Van

Vader

3
January 17, 1991
46
Yokohama, Japan
0
11
Tatsumi

Fujinami

4
March 4, 1991
306
Hiroshima, Japan
3
12
Riki

Choshu

3
January 4, 1992
225
Tokyo, Japan
4
13
The Great

Muta

1
August 16, 1992
400
Fukuoka, Japan
5
14
Shinya

Hashimoto

1
September 20, 1993
196
Nagoya, Japan
4
15
Tatsumi

Fujinami

5
April 4, 1994
27
Hiroshima, Japan
0
16
Shinya Hashimoto
2
May 1, 1994
367
Fukuoka, Japan
9
17
Keiji

Mutoh

2
May 3, 1995
246
Fukuoka, Japan
5
Mutoh previously won the title as The Great Muta.
18
Nobuhiko

Takada

1
January 4, 1996
116
Tokyo, Japan
1
19
Shinya Hashimoto
3
April 29, 1996
489
Tokyo, Japan
7
20
Kensuke

Sasaki

1
August 31, 1997
216
Yokohama, Japan
3
21
Tatsumi

Fujinami

6
April 4, 1998
126
Tokyo, Japan
2
22
Masahiro

Chono

1
August 8, 1998
44
Osaka, Japan
0
—
Vacated
—
September 21, 1998
—
—
—
Title vacated due to Chono's neck injury.
23
Scott

Norton

1
September 23, 1998
103
Yokohama, Japan
4
Vacant title won by defeating Yuji Nagata
24
Keiji

Mutoh

3
January 4, 1999
340
Tokyo, Japan
5
25
Genichiro

Tenryu

1
December 10, 1999
25
Osaka, Japan
0
26
Kensuke Sasaki
2
January 4, 2000
279
Tokyo, Japan
5
—
Vacated
—
October 9, 2000
—
—
—
Vacated after Sasaki lost a non-title match to Toshiaki Kawada at Do Judge!!.
27
Kensuke

Sasaki

3
January 4, 2001
72
Tokyo, Japan
1
Vacant title won by defeating Toshiaki Kawada in a tournament final.
28
Scott

Norton

2
March 17, 2001
23
Nagoya, Japan
0
29
Kazuyuki

Fujita

1
April 9, 2001
270
Osaka, Japan
2
—
Vacated
—
January 4, 2002
—
—
—
Title vacated due to Fujita's achilles tendon injury
30
Tadao

Yasuda

1
February 16, 2002
48
Tokyo, Japan
1
Vacant title won by defeating Yuji Nagata in a tournament final.
31
Yuji

Nagata

1
April 5, 2002
392
Tokyo, Japan
10
32
Yoshihiro Takayama
1
May 2, 2003
185
Tokyo, Japan
3
33
Hiroyoshi

Tenzan

1
November 3, 2003
36
Yokohama, Japan
0
34
Shinsuke Nakamura
1
December 9, 2003
58
Osaka, Japan
1
Nakamura defeated Yoshihiro Takayama to unify the IWGP Heavyweight Championship with the NWF Heavyweight Championship on January 4, 2004, at Wrestling World 2004.
—
Vacated
—
February 5, 2004
—
—
—
Title vacated due to Nakamura suffering various injuries.
35
Hiroyoshi

Tenzan

2
February 15, 2004
26
Tokyo, Japan
1
Vacant title won by defeating Genichiro Tenryu in a tournament final.
36
Kensuke

Sasaki

4
March 12, 2004
16
Tokyo, Japan
0
37
Bob

Sapp

1
March 28, 2004
66
Tokyo, Japan
1
—
Vacated
—
June 2, 2004
—
—
—
Title vacated after Sapp lost a K-1 fight to Kazuyuki Fujita.
38
Kazuyuki

Fujita

2
June 5, 2004
126
Osaka, Japan
1
Vacant title won by defeating Hiroshi Tanahashi.
39
Kensuke

Sasaki

5
October 9, 2004
64
Tokyo, Japan
2
40
Hiroyoshi

Tenzan

3
December 12, 2004
70
Nagoya, Japan
0
41
Satoshi

Kojima

1
February 20, 2005
83
Tokyo, Japan
1
42
Hiroyoshi

Tenzan

4
May 14, 2005
65
Tokyo, Japan
1
43
Kazuyuki

Fujita

3
July 18, 2005
82
Sapporo, Japan
0
44
Brock

Lesnar

1
October 8, 2005
280
Tokyo, Japan
3
This was a three-way match, also involving Masahiro Chono.
—
Vacated
—
July 15, 2006
—
—
—
Title was vacated as Lesnar refused to defend it.
45
Hiroshi

Tanahashi

1
July 17, 2006
270
Sapporo, Japan
4
Vacant title won by defeating Giant Bernard in a tournament final.
46
Yuji

Nagata

2
April 13, 2007
178
Osaka, Japan
2
47
Hiroshi

Tanahashi

2
October 8, 2007
88
Tokyo, Japan
1
48
Shinsuke Nakamura
2
January 4, 2008
114
Tokyo, Japan
2
Nakamura defeated Kurt Angle on February 17, 2008, on the Circuit2008 New Japan Ism tour to unify the NJPW and IGF versions of the IWGP Heavyweight Championship.
49
Keiji

Mutoh

4
April 27, 2008
252
Osaka, Japan
4
50
Hiroshi

Tanahashi

3
January 4, 2009
122
Tokyo, Japan
3
51
Manabu Nakanishi
1
May 6, 2009
45
Tokyo, Japan
0
52
Hiroshi

Tanahashi

4
June 20, 2009
58
Osaka, Japan
1
—
Vacated
—
August 17, 2009
—
—
—
Title vacated because of Tanahashi's fractured eye socket.
53
Shinsuke Nakamura
3
September 27, 2009
218
Kobe, Japan
6
Vacant titel won by defeating Togi Makabe.
54
Togi

Makabe

1
May 3, 2010
161
Fukuoka, Japan
3
55
Satoshi

Kojima

2
October 11, 2010
85
Tokyo, Japan
1
56
Hiroshi

Tanahashi

5
January 4, 2011
404
Tokyo, Japan
11
57
Kazuchika

Okada

1
February 12, 2012
125
Osaka, Japan
2
58
Hiroshi

Tanahashi

6
June 16, 2012
295
Osaka, Japan
7
59
Kazuchika

Okada

2
April 7, 2013
391
Tokyo, Japan
8
60
A.J.

Styles

1
May 3, 2014
163
Fukuoka, Japan
2
61
Hiroshi

Tanahashi

7
October 13, 2014
121
Tokyo, Japan
1
62
A.J.

Styles

2
February 11, 2015
144
Osaka, Japan
1
63
Kazuchika

Okada

3
July 5, 2015
280
Osaka, Japan
3