Hiromu Takahashi is a Japanese professional wrestler who made his debut in August 2010, as a wrestler for the New Japan Pro-Wrestling (NJPW). After three years as a "Young Lion" with NJPW in Japan, he got the new ringname Kamaitachi and was sent to Mexico to train and get international experience with the Mexican Consejo Mundial de Lucha Libre (CMLL). Kamaitachi won his first professional wrestling championship in January 2016, when he emerged victorious from the CMLL World Lightweight Championship.
After his stint with CMLL, Kamaitachi worked for the American Ring of Honor (ROH) until he returned to NJPW in November 2016 and changed his ringname back to Hiromu Takahashi. After returning to Japan, Takahashi soon won the IWGP Junior Heavyweight Championship and held on to the title for five months.
Short facts about Hiromu Takahashi
Japanese name

高橋 広夢

Transcribed name
Takahashi Hiromu
English name
Hiromu Takahashi
Born
In Hachiōji, Tokyo, Japan on 4 December, 1989
Trained by
New Japan Pro-Wrestling (NJPW)
Professional wrestling debut
24 August, 2010
Ring names
高橋 ヒロム

Hiromu Takahashi
Kamaitachi (カマイタチ)

Nicknames
(Ticking) Time Bomb
Billed height
1.71 metres
Billed weight
88 kg
Entrance themes
"Benjo Sandal Dance" by Maximum The Hormone

"Catch Your Dream" by Yonosuke Kitamura

"Time Bomb" by Yonosuke Kitamura

"Hybridize (Theme Remix)" by Yonosuke Kitamura (used when teaming up with Bushi)
History
Background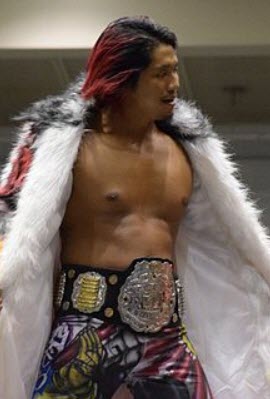 Hiromu Takahashi was born in Hachiōji, a city located in the foothills of the Okutama Mountains, within the Tokyo metropolitan area. He began taking an interest in wrestling at the age of 12 and became a fan of Masahiro Chono, who inspired him to work hard to be able to join a track and field team at school.
In May 2009, the 19 year old Takahashi participated in the NJPW annual open tryout test and performed so well that he was welcomed into the NJPW dojo. At NJPW, he trained in the same class as King Fale and Kyosuke Mikami.
Debut
Takahashi made his professional wrestling debut on 24 August, 2010, at the NEVER 1 show. Just like the other Young Lions of NJPW, he wore all black clothing and boots.
First win
Takahashi's first win occured on 6 February, 2011, when he teamed up with Tomoaki Honma. Together, they defeated a team consisting of Fale and Mikami.
Takahashi won his first singles match exactly six months after his debut, by defeating Kazuki Hirata at NEVER 5.
Moving abroad (UK & Mexico)
NJPW have a tradition of sending promising "Young Lions" (NJPW wrestlers in the early stages of their professional career) aborad to gain wrestling experience outside Japan. In the summer of 2013, Takahashi was sent to the United Kingdom to work for several independent wrestling promotions. This fairly short British sejour was then followed by work in Mexico 2014-2016.
In Mexico, Takahashi worked with NJPW:s partner Consejo Mundial de Lucha Libre (CMLL). He got a new ring persona, Kamaitachi, a masked rudo character named after a monster from Japanese mythology.
Kamaitachi and Shiego Okumura (who has worked full-time for CMLL in Mexico since 2005) constituted the team La Fiebre Amarilla (The Yellow Fever).
In early 2015, Kamaitachi started a storyline rivalry with Dragon Lee. Kamaitachi was defeated by Dragon Lee and umasked in March. Kamaitachi then challenged Dragon Lee for the CMLL World Lightweight Championship in July and was defeated once again.
Visiting Japan
In January 2016, Kamaitachi suprised fans by returning to Japan to participate in the CMLL and NJPW co-produced Fantastica Mania Event. He attacked Dragon Lee and challenged him to a title match. Dragon Lee was defeated in the match and Kamaitachi (Takahashi) won his first professional wrestling title: The CMLL World Lightweight Championship.
After both wrestlers had returned to Mexico City, Dragon Lee won back the title in March.
Working in the United States
Kamaitachi moved to the United States in April 2016 and worked there untill fall when he returned back to Japan.
Kamaitachi made his U.S. debute for Ring of Honor (ROH) on 30 April, 2016.
Kamaitachi made his debut for Pro Wrestling Guerrilla (PWG) on 20 May, 2016.
Kamaitachi made his pay-per-view debut with ROH at Best In The World on 24 June, 2016.
Kamaitachi participated in PWG's Battle of Los Angeles on 3 September, 2016.
Kamaitachi participated in ROH's All Star Extravaganza VIII on 30 September, 2016, where he lost to his old foe Dragon Lee.
 Return to NJPW
Takanashi returned to Japan in the fall of 2016 and made a suprised appearance at the NJPW Power Struggle on 5 November, once again working under his real name.
On 10 December, Takahashi joined Los Ingobernables de Japon (L.I.J) after being invited by Tetsuya Naito.
Takashi wrestled his NJPW return match on 16 December. Together with Naito, he defeated Kushida and Hiroshi Tanahashi in a tag team main event.
Championship win
On 4 January 2017, Takanashi won the IWGP Junior Heavyweight Championship for the first time.
On 11 February, he successfully defended his title against his old rival Dragon Lee in Osaka.
He then went on to successfully defend his title against Ryusuke Taguchi in March, against Kushida in April and against Ricochet later that same month. He lost the title on 11 June to Kushida at the Dominion 6.11 in Osaka-jo Hall.
Teaming up with Bushi
In late 2017, Takashi and Bushi started appearing regularly together in NJPW's junior tag team division. In October, they defeated Dragon Lee and Titán in the first round of the Super Jr. Tag Tournament. Takashi and Bush was later eliminted in the semifinals by Sho and Yoh.
Championship wins, awwards and other accomplishments
Consejo Mundial de Lucha Libre
CMLL World Lightweight Champion (1 time)
New Japan Pro-Wrestling (NJPW)
IWGP Junior Heavyweight Champion (1 time)
What Culture Pro Wrestling
Pro Wrestling World Cup: Japanese Qualifying Tournament (2017) – with Kushida
Pro Wrestling Illustrated
Ranked #48 of the top 500 singles wrestlers in the PWI 500 in 2017
Wrestling Observer Newsletter
Best Gimmick (2017) as part of Los Ingobernables de Japon
 Luchas de Apuestas record
Winner (wager)
Loser (wager)
Location
Event
Date
Dragon Lee

(mask)

Kamaitachi (mask)
Mexico City, Mexico
Homenaje a Dos Leyendas
20 March, 2015
Máximo Sexy

(hair)

Kamaitachi

(hair)

Mexico City, Mexico
Sin Piedad
1 January, 2016
Notable wrestling moves
Finishing moves
D (Triangle choke)
Fisherman suplex
Time Bomb (Fireman's carry swung into a high-angle sitout side powerslam)
Canadian Destroyer (Front flip piledriver)
Signature moves
Canadian Destroyer (Front flip piledriver)
Diving double knee drop
Diving senton to the outside of the ring
Dragon screw
Dropkick (sometimes from the top rope)
Dynamite Plunger (Fireman's carry lifted into a sitout side powerslam)
German Suplex
Headscissors takedown
Overhead belly to belly suplex into the turnbuckles, as a counter to an oncoming opponent
Running Death Valley driver onto the turnbuckles
Sitout pop-up powerbomb
Sunset flip powerbomb off the ring apron
Superkick
Wheelbarrow suplex
Diving senton
Dragon screw
Dropkick
German suplex
Double-team finishing moves (with Bushi)
Insurgentes (Electric chair (Takahashi) + Diving double knee facebreaker (Bushi)